Works continue in the Cobaw State Forest to remove debris caused by the 2021 June storms.
DEECA has engaged VicForests to re-establish safe access for the public and firefighters and reduce longer-term bushfire risks, with works to remove fallen timber along key roadsides to commence as early as January 2023.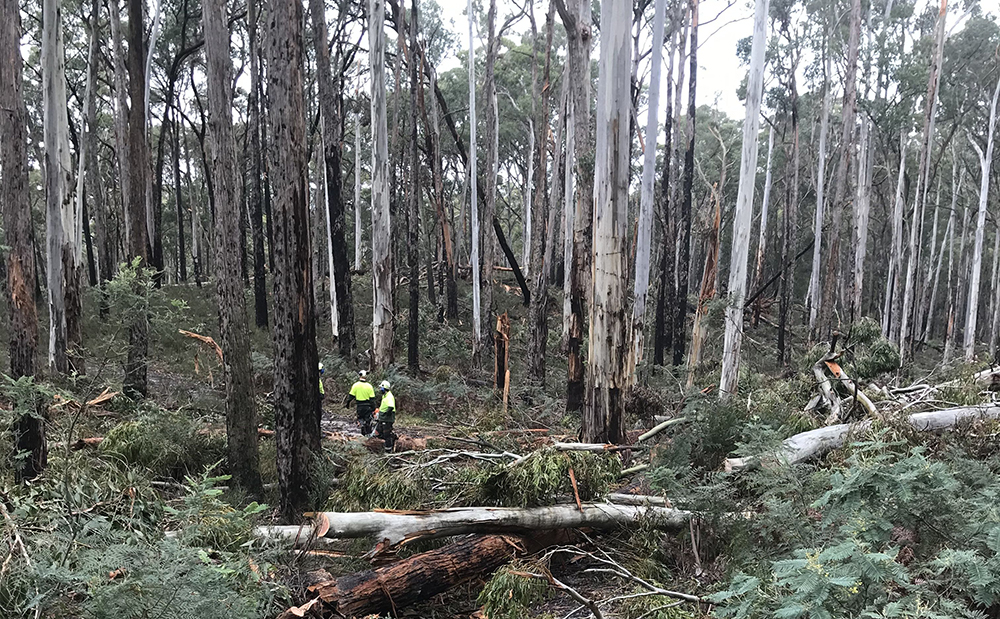 You may see additional heavy vehicles and machinery moving around the forest in the coming months as debris is removed.
As fallen trees can also provide valuable habitats for our wildlife, some will be left in place where appropriate to do so.
For all other debris, the best end-use will be considered – this may include:
commercial firewood and timber products
park furniture
bollards
community projects.
Traffic management will be in place as some forest tracks will be closed to the public to ensure everyone's safety while heavy machinery is in the area.
Find out more about the works to clean up the storm debris in these locations by clicking on the the interactive map below.
The pins on the map show you:
roadside works in purple
broadacre works in orange.
If you zoom in, you will see the hatched area and the boundary of each treatment site.
Clicking on a pin or a hatched area, will provide you with information about a site, including:
a unique site number
the name of the location of where works are taking place, usually relating to a road or track
which organisation they are being done for, usually DEECA and sometimes on behalf of a land manager
a description of the status of the works, with an estimated start or finish date for the works (if available).
Further information email storm.debris@delwp.vic.gov.au
Please note that the hatched area on the map is the total site area. The area that timber is being removed from is generally only part of the site area.
The maps will be updated as value checks are finalised and checked in the field.
Public Safety Zones will be put in place prior to the works commencing on any site. This means that access will be restricted, ensuring everyone's safety while heavy machinery is in the area. It is an offence to enter a Public Safety Zone.
VicForests' works under the Timber Utilisation Plan are not works on behalf of DEECA. VicForests may be undertaking timber harvesting operations close by to DEECA storm debris works.
More information about the VicForests project plan can be found on the VicForests website.
Page last updated: 13/02/23