Twenty-seven Central Victorian Forest Fire Management Victoria (FFMVic) employees have been recognised for their long-standing commitment in protecting Victorian communities and the environment from bushfires at a prestigious ceremony this week.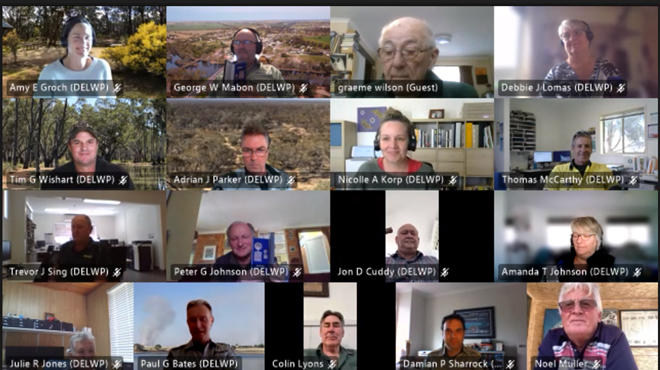 The staff, who together have a combined 600 years of service, were awarded with a National Medal and Clasps on behalf of the Office of the Governor-General at a virtual presentation on Monday (27 September).
The National Medal was awarded to 10 employees for 15 years' respective service to FFMVic. Sixteen of the 27 team members received Clasps for each additional ten years of service. One employee received the National Emergency Medal.
FFMVic Acting District Chief Fire Officer, Paul Bates, who was also a recipient of a First Clasp, said he was extremely proud to present his fellow recipients with their medals because, not only did they all play a vital role in protecting Central Victorian communities, but they also provided significant support across the state, particularly during the Black Summer bushfires.

"It's important we recognise the significant achievements of our staff. All the recipients have had lengthy and accomplished careers within our organisation, and I would like to congratulate them on their well-deserved awards," Mr Bates said.
Established in 1975, The National Medal recognises long and diligent service by members of recognised government and voluntary organisations that risk their lives or safety to protect or assist the community in enforcement of the law or in times of emergency or natural disaster.
Loddon Mallee Regional Manager, Planning and Approvals, and National Medal and First Clasp recipient, Amanda Johnson, said the group was honoured to receive their medals.
"The National Medal recognises not just the physical risk many of us face in our roles, but also the personal and mental stresses we have gone through in protecting our community throughout our diverse careers," Ms Johnson said.
"From planning and logistics to operations, we care deeply about Victorian communities and we all play a key role in ensuring our homes and the environment are protected from bushfires.
"We would also like to thank our families who have supported us over the years to service the community, which can be particularly busy during the summer months and the holiday period."
The National Medal and clasp recipients are:

| National Medal (15 years) | National Medal and First Clasp (25 years) | First Clasp (25 years) | First and Second Clasps (35 years) |
| --- | --- | --- | --- |
| Carsten Nannestad | George Mabon | Paul Bates | Trevor Sing |
| Adrian Parker | Jon Cuddy | Tim Wishart | Les Vearing |
| Amy Groch | Debbie Lomas | John Hosking | Russell Manning |
| Nicolle Korp | Geoff Weeks | Colin Lyons | Noel Muller |
| Damian Sharrock | Peter Johnson | | |
| Kelly Marchingo | Amanda Johnson | | Second and Third Clasps (45 years) |
| Jill Fleming | Julie Jones | | Ray Harrower |
| Tim Mayr | | | |
| Leonie Dickins | | | National Emergency Medal- 2009 Fires (separate award) |
| Rodney Sloan | | | Graeme Wilson |