Five Forest Fire Management Victoria (FFMVic) employees have been recognised for their commitment in protecting the Mallee community and environment from bushfires, after being awarded a prestigious National Medal on behalf of the Office of the Governor-General last month.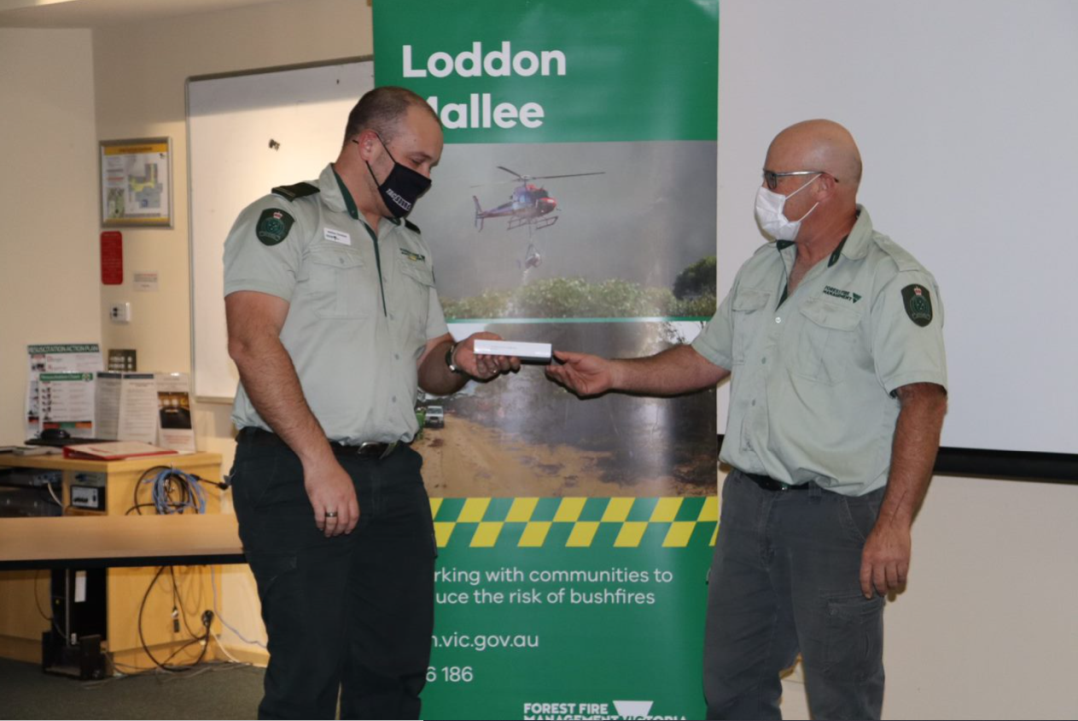 Firefighters Ashley Christian, Nathan Christian, Daniel Marr and Mick McDermott and Planning Officer Tim Mayr were each awarded the National Medal for 15 years' respective service, while Biodiversity Officer, Victor Hurley received the National Medal and clasp for 25 years' service to FFMVic.
FFMVic Mallee District Manager Phil Strachan said he was extremely proud to present the recipients with their medals because, not only do they play a vital role in protecting the Mallee communities from bushfires, they also provide significant support across the state, particularly during the Black Summer bushfires.
"It's important that we recognise the significant achievements of our staff. All the recipients have had lengthy and accomplished careers within our organisation and I would like to congratulate them on these well-deserved awards," Mr Strachan said.
Established in 1975, The National Medal recognises long and diligent service by members of recognised government and voluntary organisations that risk their lives or safety to protect or assist the community in enforcement of the law or in times of emergency or natural disaster.
Senior FFMVic Officer, and recipient, Nathan Christian, said the group was honoured to receive their medals, which had allowed them to reflect on their respective careers and challenges faced over the years, as well as the support they have received from loved ones.
"Some of us entered emergency management at the grassroots level, working in the field, building an understanding of the bush and fire. Others came with a science background and have provided science-based fire modelling to give those on the ground the most up-to-date information to make the best decisions to protect life, property and the environment from bushfires," Mr Christian said.
"We have developed invaluable skills and experience to adapt and grow into leadership and incident management roles that have seen us perform emergency functions within our local community and across the state, during times of increased bushfire intensity and frequency.
"We would also like to thank our families. This award also represents the sacrifice of time away from them, the holidays and family events missed, as well as the support our partners have given to enable us to serve our community.
"So, in a very big way this award is theirs too."