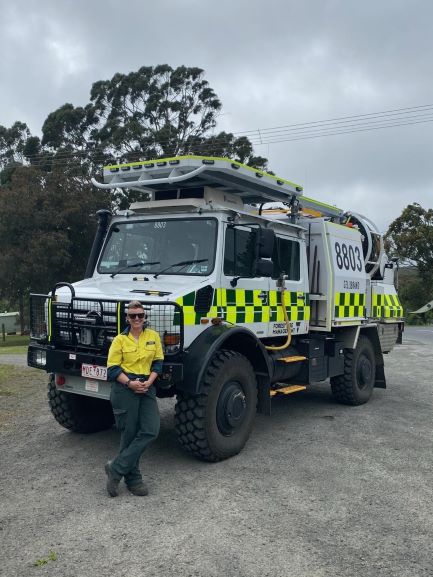 Bec Luppino's career path with Forest Fire Management Victoria (FFMVic) started like many Forest and Fire Operations Officers (FFOO) as a contracted Project Firefighter (PFF).
Seasonal Project Firefighters complete many of the same tasks as FFOOs such as forest management works, fire prevention works and bushfire fighting, however they are only employed for the fire season each year.
Bec loved her role as a PFF so much that she wanted to become a FFOO.
"I wanted to grow my skillset and do meaningful work all year round to protect the environment and my local community. I jumped at the chance to become a FFOO when a vacancy came up," Bec said.
"Our work is community oriented and it can take you across the state - sometimes interstate. It's a job where you can make a real difference and that's pretty amazing."
Bec, now based at FFMVic's Gellibrand Depot, urged anyone thinking of applying for one of the FFOO roles currently available around Victoria to go for it.
"You won't be disappointed; you'll learn new skills. Look at me, I only had a manual car licence when I started and now, I am licenced to operate the Heavy Tanker Unimog!" Bec said.
"You might even have existing skills you can share; you will see some amazing parts of our state, you'll engage with communities and work in a team to achieve great outcomes."
Bec added that tasks could change very quickly.
"Being able to adapt and look at the big picture is an important trait to have," she continued.
"Opportunities arise to learn new skills, back yourself to have a go, step outside of your comfort zone and try something new."
When asked about what training FFMVic provided, Bec said training began as soon as she.
"I had no previous experience in fire response or suppression, but that didn't matter as we received training at the general firefighter camp FFMVic run before you start working out in the field.
"Since then I have gained several accreditations including Crew Leader and using a chainsaw safely; and of course, my accreditation to operate the Unimog.
FFMVic is currently recruiting for various FFOO roles across Victoria. To find out more and where roles are available, visit Firefighting and employment.
Page last updated: 26/07/21