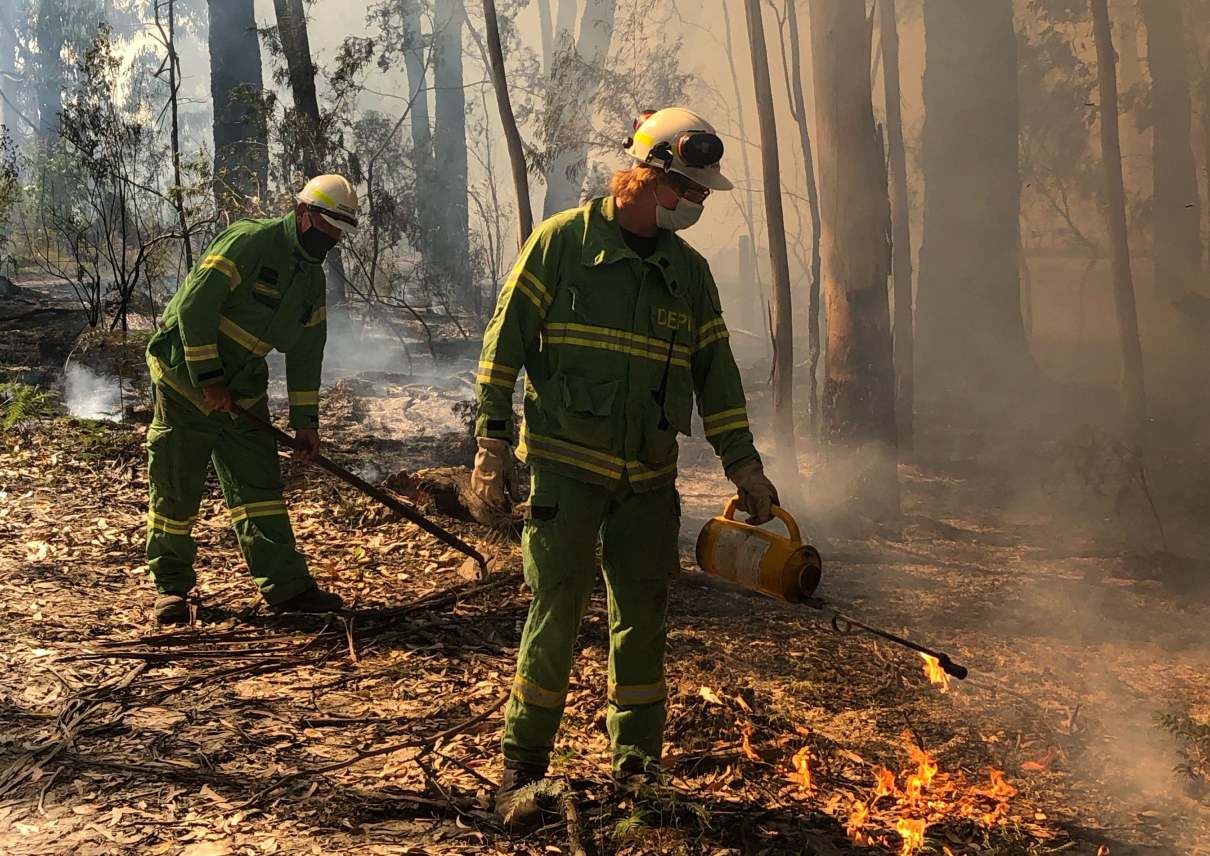 In mid-January 2020, with smoke originating from other fires in the region hampering detection of new fires from the fire tower network and aerial spotters, FFMVic crews were sent out to investigate a possible new fire near the Boggy Creek track, that had been detected through satellite technology.
On arrival, the crews were met with a well-established fire with 3-metre-high flames and a 400-metre wide front along the track to the north.
Otway District Manager David Roberts said forest type and fuel levels were a major factor in both the development and eventual control of the fire.
"To the south of Boggy Creek Track we had an area where there was less fuel due to a planned burn undertaken in 2012 and the teams were able to easily contain it," said Mr Roberts.
"However, the fire moved rapidly to the north, due to the dryness of the fuel on the forest floor and the winds pushing the established fire front through mature heath and heathy woodland which was long unburnt and readily available.
"When the fire reached Rifle Range Road embers were being blown into the forest to the north where a planned burn was undertaken in 2017 leaving very little fuel to feed the spot fires meaning it was quickly brought under control."
Once under control on that front, FFMVic crews were able to concentrate on the east and west fronts thereby keeping the fire small, limiting impacts to the community and reducing its environmental impact.
Mr Roberts pointed out that local knowledge of the 2017 fuel reduced area to the north of the fire enabled containment strategies to be put in place.
"The previous fuel reduction work undertaken by FFMVic crews limited the spread and overall size of the fire," said Mr Roberts.
"If we hadn't contained the fire so quickly there was the possibility of it reaching the Gellibrand township."
"Having the fuel reduced areas provided options for our fire managers to implement more efficient and effective strategies to contain the spread of the fire and ultimately distinguish the blaze.
"It also meant that we didn't need to call on more firefighting resources and equipment which were already fully engaged in other firefights across the Region and State.
To find out when and where planned burns are happening near you go to www.vic.gov.au/plannedburns or call 1800 226 226.
Page last updated: 09/10/21