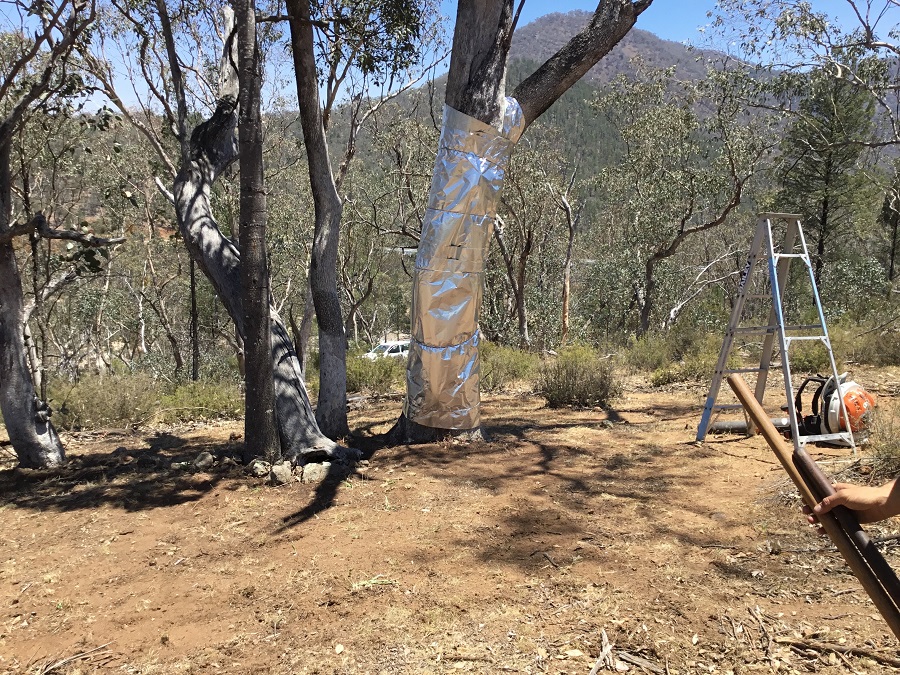 In the wake of the devastating bushfires of 2019/2020 and the recent severe floods that have ravaged Gippsland, the 2021 NAIDOC theme of Heal Country has never been more important.
Heal Country calls for the continued protection for Indigenous lands, waters, sacred and significant sites and cultural heritage.
The summer bushfires of 2019/2020 in East Gippsland threatened dozens of culturally significant heritage sites that were in the direct path of the devastating fire. Thanks to the innovative and dedicated work of a coalition of Traditional Owners and Department of Environment, Land, Water and Planning (DELWP) staff, these sites are still with us today.
Partnering with members of DELWP Aboriginal staff network and Cultural Heritage Specialists throughout Gippsland, Heritage Field Officers last year conducted urgent operations ahead of the fire front, wrapping known scar trees in sisalation to try and protect significant cultural history.
First Nations people then assisted with the removal of sisalation material once the fire areas were deemed safe.
Sisalation is the brand name for a special type of sarking material typically used as building insulation. Sarking is a pliable membrane that sits under roof tiles, like a protective second skin. The manufacturer adds aluminium foil to woven cloth or kraft paper and strengthens it with fiberglass, making it an excellent material to protect against ember attack and radiant heat.
DELWP Heritage Specialist Gerry Laughton, was heavily involved in the operation.
"Aboriginal scarred trees are found across all of Australia, with most being over 100 years old they hold great significance to our local Mobs," he said. First Nations people still take part in the practice of scarring trees to preserve and pass on the knowledge and skills to the next generation.
"Protecting these pieces of history for future generations is one of the most important things we can do as First Nation People".
This new method of wrapping the trees was combined with large mineral earth lines created by hand, roughly 3-5 meters wide surrounding the trees. This is done to stop the fire from directly reaching them and to provide as much protection to the tree as possible.
This method proved to be extremely successful at protecting the scar trees from being directly impacted by fire and lost.
Developed over the last seven years, this method of protection has been utilised to protect heritage bush huts in past fires and is now for the first time being implemented in the protection of scar trees.
Gerry and his team have continued to test this method in different environments at recent planned burns around Erica in Gippsland's West.
"Although we've had good results so far, this method is still new," Gerry said.
"We're still gathering the results of this test together, but it all looks very positive so far. We're continuously working to fine tune this approach which we hope will allow us to better protect and preserve significant cultural sites in the future."
This project will be presented at the upcoming Indigenous Cultural Heritage Conference in Melbourne, 27 to 29 of October 2021 by the DELWP Gippsland Cultural Heritage team.
Protecting and preserving Country is at the core of land management. Country today is facing unprecedented threats to sustainability. As land managers, DELWP looks to the First Custodians for guidance on how to best Heal and Care for Country.
Page last updated: 05/07/21