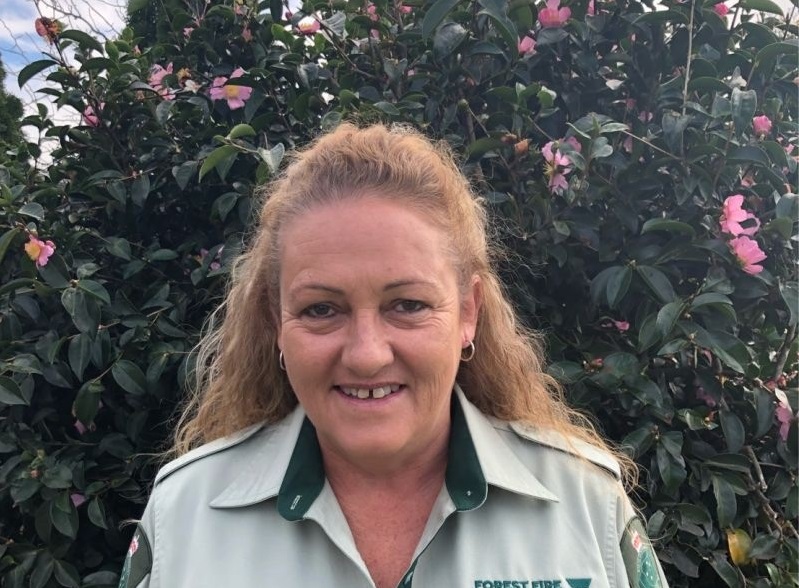 A passion for people and a drive to constantly be learning new skills has led Regional Manager, Fire and Emergency Preparedness Kelly Rash on a distinguished career of dedicated service to the emergency management sector and the community. Her career and her achievements throughout it were this week rewarded with an Australian Fire Service Medal, announced on Monday as part of the Queen's Birthday 2021 Honours List.
"It's honestly a very humbling experience. I felt very honoured being nominated and to receive the award, it has taken a few days to sink in. All I've ever done is just to do the best in my job, and to be nominated by my colleagues and peers is very humbling because I couldn't have done my job without them," Kelly said.
The path began more than 30 years ago, in 1985, when Kelly took her first job out of school as a typist for what was then known as the Department of Conservation, Forests and Lands.
"It was a 3-month contract with the Department at Neerim South, I was just happy to have a job after school."
Little did she know that she would find her passion in this industry and was taking the first step on what has become a distinguished career that has seen her working in emergency management across Australia.
Throughout her career Kelly has taken on many different roles in the emergency management sector, from an operational firefighter to regional training manager and planned burn coordinator Kelly has left her mark on any role that she takes on.
During times of emergency Kelly is an endorsed Regional Agency Commander and Resources Officer level 3 and has performed these roles for some of the largest campaign fires in recent Victorian history, including the 2009 Black Saturday and the recent 2019/2020 Black Summer.
"My first experience with fire was in 1997, I worked with the Incident Management Team (IMT) on the Caledonia fires. At that time the Departments main emergency role was in fire and it wasn't a multi-agency affair as it is today, but I thought it was amazing how all the different areas of the Department came together."
Since 1997 Kelly has worked across a number of large fire campaigns including 2003, 2005/2006, the 2009 fires and all major Victorian fires in the last 10 years. Her role in emergency response has seen her deployed across Australia to NSW, Tasmania and WA across a range of emergencies including major floods and fire.
Kelly's passion for resource management has contributed to the implementation of various systems to improve the way resources are managed in Victoria. Kelly was also a trainer of the resources course. This program has now been extended to include partner agency staff including SES, CFA and FFMVic. Kelly spearheaded a formal mentoring program in Gippsland that has led to greater development of operational skills in the regions staff.
"To see the different divisions and agencies that often have differing views and opinions, working towards a single same goal, it is incredible. That's what emergencies do, they bring people and agencies together, seeing that has been one of the driving forces of my career."
Kelly has never seen herself as a trailblazer, she simply had a drive to learn new things and took every opportunity that came her way. However, this isn't to say that she hasn't faced challenges on her journey.
"I really had to become confident in myself, that was something I struggled with. Stepping out of my comfort zone was something that I did not want to do originally, but I have found that those are the times when we are at our best, when we learn the most and become the best versions of ourselves."
Peter Brick, Gippsland's Emergency Management Project Lead has worked with Kelly for nearly 20 years and describes her as "a leader in not only resources but in overall preparedness and training of firefighters. She brings real professionalism to the emergency management sector."
"On every emergency that we've worked on together Kelly works to ensure the best outcomes for those working on the front lines and takes each challenge that comes her way in her stride."
Deputy Chief Fire Officer Geoff Conway congratulated Kelly on receiving the Australian Fire Service Medal.
"There are very few people who understand Victoria's emergency management arrangements like Kelly does," he said.
"Her ability to bring people from different agencies together to collaborate for the greater good is a real strength."
"Kelly always has a great grasp on what's happening at the ground level of an emergency but knows where it fits in the big picture. This is a rare skill to have."
Kelly has been a role model for women in fire for years, inspiring more women to take on roles in DELWP and the emergency management sector. Under Kelly's stewardship Victoria has become a leader in emergency management resourcing and preparedness. Her contributions to the emergency management sector and the reforms she has implemented in training and interagency collaboration demonstrate her commitment to Australia's fire service and community safety.
Page last updated: 23/06/21