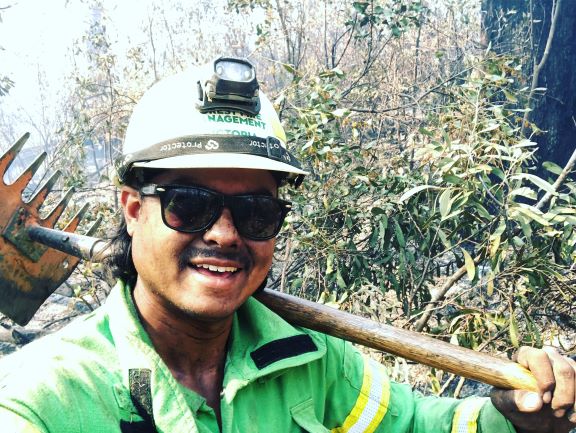 Living in Perth at the time, Afie Jazreen literally flew across the country to fulfill a dream to become a Project Firefighter (PFF).
"I had just finished my degree in Western Australia when I heard about Forest Fire Management Victoria (FFMVic) recruiting their latest batch of PFFs," Afie said.
"By becoming a PFF it gave me the best of both worlds; I could use the firefighting skills I learnt as a volunteer in Western Australia and get out into nature.
"The ability to experience new ways of fire suppression, and in an area of forest that I'd never experienced before sounded exciting.
"I've always enjoyed being out in nature, and upon discovering I could pursue one of my goals in an amazing part of the world, I was sold!"
Afie started working at FFMVic as a PFF in 2017 and has returned every fire season since.
"l am in love with the local Swifts Creek community and the contributions I was making as part of my job. I've been here ever since," Afie said.
"Another thing about my job I love is that every day is never really the same as the next.
"One minute, you're clearing culverts so you can safely travel major bush arterials in an emergency, the next you're throwing the greens on and following a trail of smoke so you can wrap up a bushfire."
Having just finished his fourth season, Afie said he had found that you could come to expect certain jobs based on the time of the year, but every day offers a new experience.
"You might get paired up with someone your own age, or someone who's been here 30 years and knows so much history. There's always someone to have a yarn with, learn something from or a new area for you to explore."
For anyone thinking of applying for one of this season's PFF roles Afie suggests giving it as hard a go as you can.
"Soak in all the new experiences, meet new people, ask questions and just have a good time," he said.
After four seasons with FFMVic as a PFF Afie has just accepted a position for NSW Parks & Wildlife Service as a Senior Field Officer.
FFMVic employs several hundred project firefighters each year, at more than 80 locations around Victoria. PFFs help suppress bushfires and assist in prevention works, including planned burning.
To find out more on how to become a Project Fire Fighter, visit Firefighting and employment.
Page last updated: 28/07/21