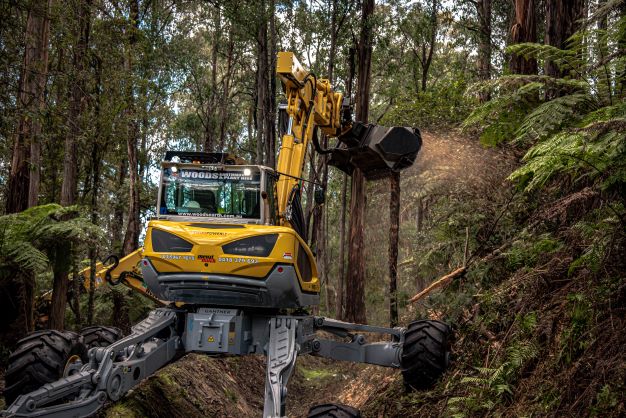 Science and innovation are fundamental to the work Forest Fire Management Victoria (FFMVic) does to reduce bushfire risk across the state.
FFMVic works with researchers from universities across Australia to better understand bushfire behaviour, including how to reduce bushfire risk and the impact of climate change.
Since 2017 FFMVic has partnered with The University of Melbourne on a project to implement the results of research to transition the science behind mechanical fuel treatments (MFT) into FFMVic fuel management operations.
Mechanical fuel treatments include mulching, slashing, and mowing.
Frazer Wilson, FFMVic team leader, Risk and Evaluation in the Port Phillip region and the project lead for the mechanical fuel treatment research, said FFMVic has been working with The University of Melbourne researchers Bee Pickering, Dr Jane Cawson and Professor Trent Penman on this project since 2017.
"There are three phases to the research," Frazer said.
"The first phase took place between 2017 and 2019 and looked at fuel properties and potential fire behaviour after mechanical fuel treatment.
"Through field monitoring and laboratory testing we were able to understand fire behaviour in mechanically treated areas, and the results proved the benefit of mechanical treatment in risk reduction."
Phase 2 is currently underway and is expected to finish in October. The researchers are examining how mulching can be included in FFMVic's computer modelling system.
"In the final phase, which we expect will finish next year, we will look at how mulching can affect vegetation," Fraser said.
"It is important we understand the effects of mulching on the ecology of an area and investigate the ideal mulching particle size to optimise bushfire risk reduction and to standardise our future works.
The research is improving how FFMVic, partner agencies and local councils reduce the impact of bushfires on Victorian communities and the environment.
Before starting this research project, FFMVic could only measure the impact of fire and planned burning in its PHOENIX Rapidfire modelling tool.
PHOENIX Rapidfire is a bushfire simulator developed by researchers at The University of Melbourne. It is mainly used during summer to predict the path of bushfires, it can also be used for strategic planning, fuel treatment testing scenarios, and to monitor risk in planned burn sites.
Frazer said even though FFMVic crews already perform hundreds of hectares of broadscale mechanical fuel treatments across the state every year, many on the urban fridges near properties, the data had not been included in residual risk calculations.
"We have had to alter FFMVic's residual risk modelling processes to include MFTs into Phoenix Rapidfire and its residual risk metric," Frazer said.
"Planned burning can only take place when weather conditions allow, while mulching isn't weather dependent, requires less resources and can be done at any time of the year.
"Including MFT data in the residual risk modelling process gives us a more accurate snapshot of our risk reduction works across the state and enables us to test which fuel management treatment is more effective in different areas and terrain."
Image: Spider in operation at O'Shannassey aqueduct. (Credit: Parks Victoria)
Page last updated: 16/08/21