Scott Falconer, Deputy Chief Fire Officer, Loddon Mallee region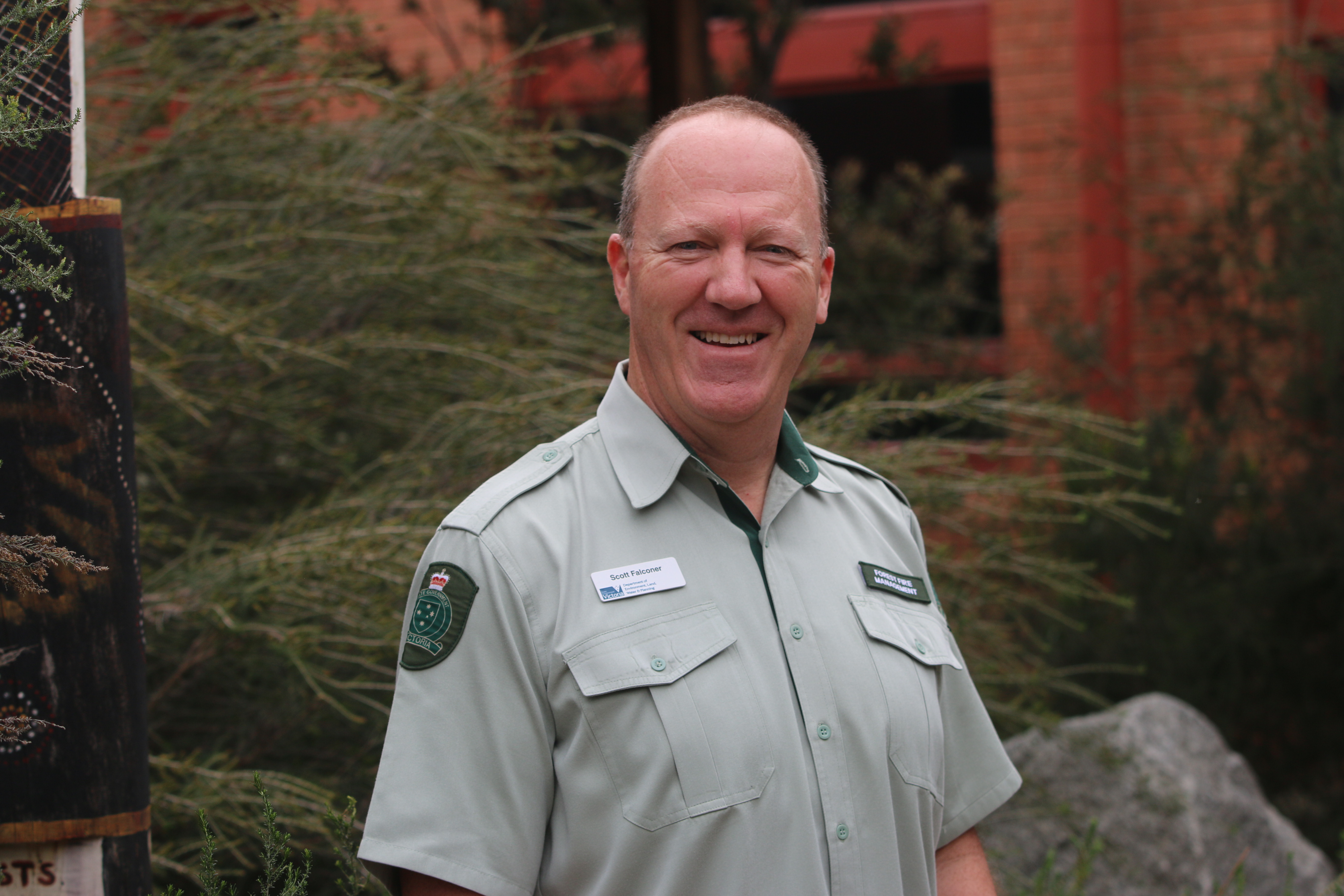 Risk reduction
The vast, varied Loddon Mallee region stretches from the Macedon Ranges to the Murray River and out to the far north-west corner of the state. Like the region itself, forest fire management here demands a wide-ranging approach.
"It's 28% of public land in the state, and the landscape changes so dramatically," said regional fire chief Scott Falconer of his Loddon Mallee territory.
With the Murray Goldfields fire district to the south contrasting so starkly with the Mallee district to the north, Scott regards his mission statement as a tale of two districts. "I always describe it like two different countries, just by the nature of the geography, landscape and population," he said.
"In the Murray Goldfields district, we have really high-risk areas to life and property. There are obviously ecological features that we look after as well, but broadly speaking we have Macedon and Castlemaine and everything in between. So there's always a focus on ensuring those communities are protected."
Heading out Mildura way, the risk profile changes and with it the approach to fuel management for Scott and his team. "The further north we go, the more dispersed is the population. A lot of the burning in the Murray-Sunset country and the Big Desert — our big areas of public land — is really about providing strategic fuel breaks."
By ensuring these large tracts of public land don't burn, Scott and his crews aim to safeguard sensitive ecological systems and endangered species, while also protecting cropping land and fences and the many small Mallee communities.
With such vastly different landscapes to manage, it's no wonder the 2018–19 burn season presented as something of a lop-sided affair in terms of the risk profile.
As Scott's colleague, Regional Fuel Management Coordinator Ben Matthews, explains: "Our risk is largely driven by the Murray Goldfields district. The Mallee has a very small contribution: less than 1%. So we're really talking about Murray Goldfields when we talk about Loddon Mallee risk."
There is no doubt the risk profile is increasing, notes Ben. "That's due to some very large planned burning programs having occurred around five to six years ago, and the vegetation is starting to come back in those areas," he said.
"Our risk target is 75%, and around the time of our planned burning program last year it was at 63%," said Ben. In 2018–19, risk in the Loddon Mallee region increased to 66% even with the delivery of the Joint Fuel Management Program. However, without any fuel management, it would have increased to 67%, so Loddon Mallee staff are confident they're right on track.
Explaining Loddon Mallee's main areas for planned burning during 2018–19, Scott and Ben emphasised the work done in the Pyrenees winery region, along with high-risk communities including Castlemaine and Bendigo. A stand-out was an autumn burn completed in the Macedon Ranges. For both Scott and Ben, this burn topped the lot, in terms of the risk-based approach to bushfire management.
"The burn we did on Macedon in autumn was very significant," said Scott. "It was a really high-achievement, high-risk burn." Ben agrees, adding: "It was our highest-profile burn and the most expensive. It was our biggest-ticket burn for the year by far."
An ongoing area of note is the Northern plains grasslands north of Bendigo, which includes Terrick Terrick National Park.
"We have some grassland burns there that Parks Victoria manages," said Ben. "This year we got one burn done and last year a couple. It's a good work in progress."
Like so many burns, the Terrick Terrick burn wasn't without its challenges. As Scott explained, "Parks Victoria was keen to see risk reduced in this location, consistent with the approach for all public land. In this location, there was concern from some parts of the community about the impacts of this burn on animals in the area. It's not unusual for us to need to find the balance between reducing fire risk and conserving wildlife, and we're always looking for ways to achieve both outcomes."
Planning and operations
Seasonal conditions in 2018–19 were far from ideal, with lack of rain demanding tough calls on the planning and operations front.
"The autumn was extraordinarily dry," said Ben. "It really pushed our planning, and we really had to make calls about whether or not we would burn in such dry conditions. We pulled a few burns but we went ahead with some of the really high-risk burns, like Macedon and a couple of others."
The 2018–19 season was dominated statewide by the major fires in Gippsland, and other regions were called on to lend a hand. It was a big commitment, but in some ways it was also a case of supporting those in greater need.
"Contributing a large number of taskforces to Gippsland was a significant story for us," said Scott. "We had most of our resources rotating out of Gippsland for the entire summer period. And we were lucky that in our region we had what I would call small fires — haystacks and grass fires — but nothing major."
As Scott and his staff well know, next time around it could be their crews calling for regional reinforcements.
"Unfortunately, we reckon 2019–20's going to be busy here and busy in Gippsland as well," he said. "We've had rain in the southern part of the Mallee and very little rain in Murray-Sunset country, which means we're likely to get those three-to-four-days fires that can happen up there. They're big fires and pretty remote, and they need a lot of work. Plus there's dryness in Gippsland, which is likely to mean campaign fires there, too."
While Scott is quick to point out that such a scenario is purely speculative, it's based on current conditions and the latest forecasts. In this job, planning and predicting go hand in hand.
Fuel management
An area of concern in recent years has been a lack of cross-tenure burning — burns on public and private land. Scott sees this as a challenge for the sector, not just for the Loddon Mallee region. For this reason, the region has had a strong emphasis on cross-tenure burns in 2018–19.
"Without a doubt, our biggest push forward will be in that area," he said. "It's not a new emphasis, but it is definitely a continuing one. And we've been doing more of it. We've been focusing on working with the CFA and the community to burn areas adjacent to public land as well as the public land, to get the best benefit for community safety," Scott said.
"It's largely driven by the CFA because they're the group responsible for suppressing fires on private land. We've worked closely on joint delivery with the CFA, growing our partnership and engaging together with local landowners – getting the community on board so they know how they can do burns on their properties."
As Ben points out, fuel management on private land is a challenge now and for the future. "Our strategy identifies that we really need to reduce risk on private land the most out of anywhere. So this is an area for us to improve. It's actually identified worldwide now that private land holds some of the highest risk levels," he said.
In the meantime, climate change must also be factored into the mix, says Scott. "The fact is our burn windows are changing, they're shifting. And we need to be able to adapt to that. Some scientists might argue that could mean more windows but whatever the case, they'll be different. Our experience is that our traditional spring and autumn windows are getting shorter, but that also means we may be able to burn earlier and in winter."
Ecosystem resilience
Good news stories can be a little thin on the ground, but Scott reckons there's one to be found in his region, thanks to the ongoing work around the successful reintroduction of the Mallee emu-wren.
"The peak body BirdLife Australia is still singing our praises for our management regarding the Mallee emu-wren, and they have membership on the Mallee Fire Advisory Committee," he said.
"We've been able to meet all our objectives including looking after the habitat and the ecosystem for that species and protecting the community and the broader ecological system up there. So that continues to be a good story."
But it's also very much a delicate work in progress, as Scott is at pains to point out.
"It's not a static situation, because every year there's a challenge around where we burn and how we're going to burn and where we don't burn because of the species. And they just used the population of birds up there in the Mallee to relocate other populations elsewhere including in South Australia. So it's a story of national and international significance."
Community and partnerships
Fresh from a visit to the Mallee, Scott is enthused by the strong strategy work and community links being forged via the Mallee Fire Advisory Committee.
"It came about after some fires about five years ago, when the community said to us they didn't feel like they were connected to the department," explained Scott.
After meeting with concerned locals to discuss ways to improve relationships, the Mallee Fire Advisory Committee was formed. Scott said, "We now have a committee of community representatives as well as us, the CFA and Parks Victoria, and the representatives help us develop our strategy and tactics for fire management including fuel management."
It's this community-backed grouping that has given its blessing to the work of Scott and his team in recent years. "They have endorsed our plan for this season, and they endorsed our plan for last season, which are really significant things," said Scott. "And they're part of coming up with what the strategy will look like. As opposed to just giving us some information and us maybe considering it, they are a true advisory committee."
Scott is also passionate about the region's efforts to develop cultural burning initiatives and community engagement. As a recipient of the Lord Mayor's Bushfire Appeal Churchill Fellowship, Scott visited the United States in 2017 with a Dja Dja Wurrung Traditional Owner representative to gain first-hand knowledge of North American traditional burning practices. That knowledge and experience have since continued to strengthen FFMVic's cultural burning program within the region and across the state.
"We've now got 20 burns listed on our Joint Fuel Management Program with three different Traditional Owner groups in Loddon Mallee," Scott said. "We've built really good relationships with Dja Dja Wurrung and Barapa Barapa in particular. And that's definitely leading the way in Victoria and arguably anywhere else at the moment."
This work helped form the basis of The Victorian Traditional Owner Cultural Fire Strategy, which was launched in May 2019.
"We're working with Traditional Owners to try to realise their aspirations in getting cultural burning back onto Country. It's a statewide story, but we're probably doing more of that burning here in the Loddon Mallee than anywhere else at the moment."
But if there was an award for community support for this season, both Scott and Ben couldn't go past that autumn planned burn at Macedon.
"We had such fantastic community engagement there," said Ben. "We had awesome support from the Macedon Fire Brigade, too. We actually had them posting notifications and engagement activities on our behalf through their Facebook page."
Scott concurs, saying that completing a high-risk burn of this kind so close to Melbourne was a real achievement, "especially as we had communities around there that were extremely worried about fire risk in the future, but also about fires getting out of control".
Both Scott and Ben were surprised and delighted to discover that on the night of this planned burn, many people took the time to enjoy the spectacle — from a safe distance, of course. It was also a full moon that night, so it was pretty impressive, and there were lots of photographers out."
For the Loddon Mallee folk, it was a shining light in another busy season.
Page last updated: 23/12/20