Glossy black cockatoos occupy a small habitat niche in the forests and woodlands of eastern Victoria, eastern New South Wales and south-east Queensland. Their range in Victoria extends from Mallacoota and the NSW border area to Colquhoun State Forest and north towards Gelantipy. They feed almost exclusively on Black she-oak, and remnants of chewed cones can be used to identify the individual trees the birds feed on.
In mid-2019, FFMVic staff from the Gippsland and Hume regions developed an app to help collect information about the location and characteristics of stands of Black she-oak. Mapping the location of the stands and their characteristics gives us the information we need to protect the cockatoo's habitat on public land from mechanical disturbance and fire during the planned burning program. We can also assess the effectiveness with which our planned burning mitigation measures protect the habitat.
Eight volunteer members of Birdlife East Gippsland (BLEG) helped write the questions we need to answer to determine the significance of the Black she-oak stands and their surrounds as potential breeding sites for the cockatoo.
During the annual BLEG bird survey camp at Mallacoota in October, members used the app to collect and record information about important habitat sites. BLEG members continued to collect site information, verifying the existence of important Black she-oak habitat in Colquhoun State Forest and Lake Tyers State Park.
After the summer bushfires, BLEG members continued to collect information about previously surveyed and burnt habitat, unburnt Black she-oak stands and areas where Black she-oaks were re-shooting after the fires.
The enthusiasm and commitment of BLEG and its members have been essential for mapping the extent and characteristics of Glossy black cockatoo habitat, which is critical for the future of this species.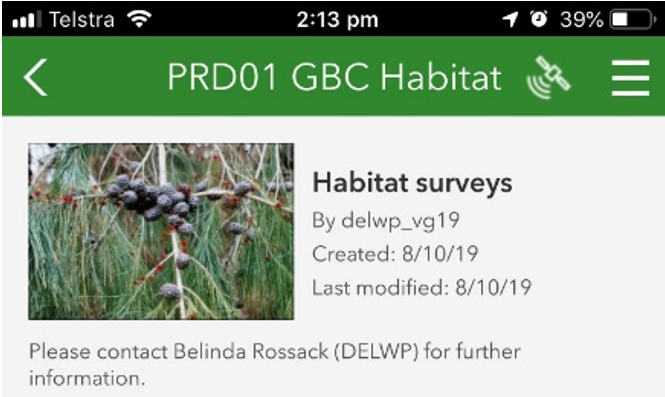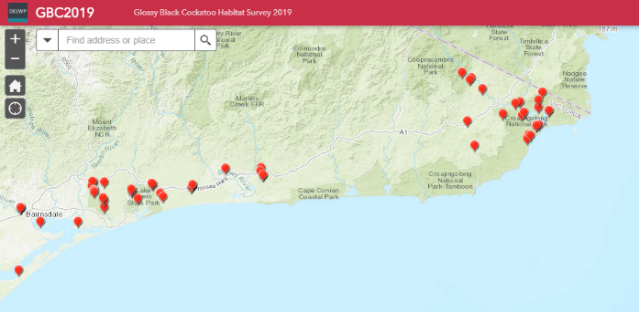 Habitat mapping app screenshots
Page last updated: 18/12/20