More than 220 hectares of forested area were severely affected within the Dandenong Ranges National Park in the 2021 storms. In some areas, as much as 90% of the tree canopy blew over or snapped off. FFMVic's Port Phillip region has led the recovery effort in the Dandenong Ranges. Partners include Park Victoria, Melbourne Water and local government.
FFMVic has engaged contractors, including VicForests, to assist in the recovery effort with their crews acting under the direction of FFMVic. All roads, tracks and fuel breaks have been reopened and works are ongoing to treat hazardous debris in two discrete forested areas around Kalorama and Olinda.
Fallen debris from storm events are part of an essential natural cycle, with debris providing significant biodiversity value, including habitat for native wildlife. For the vast majority of the storm impacted area, debris will be left where it fell. However, it will be treated or removed in limited high-risk areas where fallen debris presents a significant future bushfire risk, or where it prevents access to the area for FFMVic firefighting crews. Where it is removed, it will be repurposed into usable timber for community and commercial use.
The purpose of works in these areas is to manage bushfire risk to protect communities and assets. Trees will not be felled or removed unless deemed hazardous.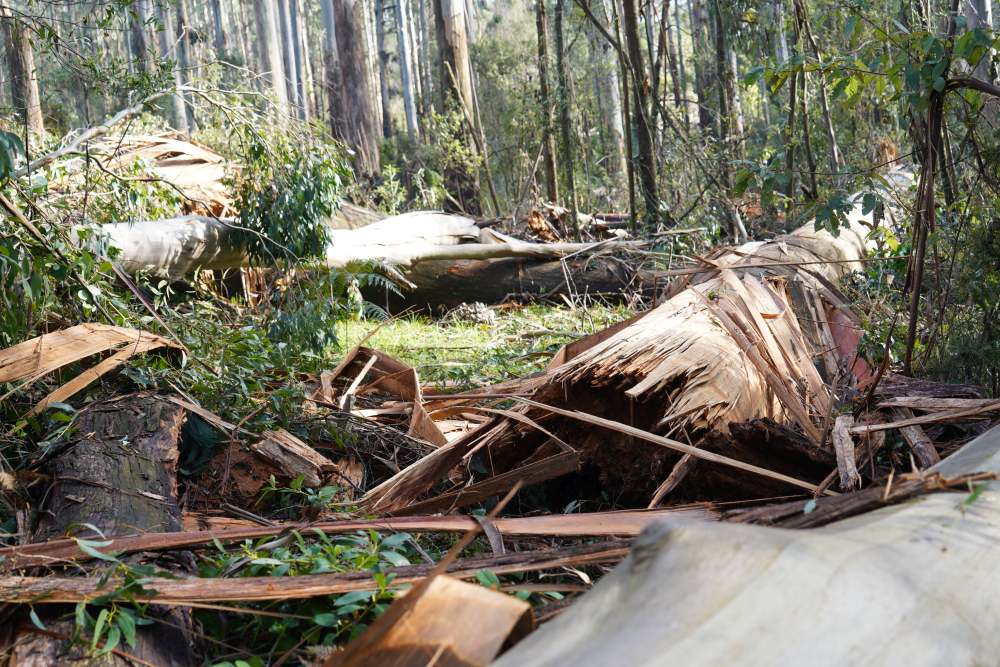 What is the bushfire risk in the Dandenongs?
The Dandenong Ranges is heavily populated. Many people live in the forest with few escape routes.
The nearby Silvan Reservoir provides 82% of Melbourne's drinking water. A fire in this area would significantly impact people, biodiversity and wildlife, this critical infrastructure and the local economy. For these reasons, the Dandenong Ranges has the highest bushfire risk in the Greater Melbourne region.
Where are works taking place to reduce risk?
There are two sites in the Dandenong Ranges, totalling 50 hectares, which pose significant bushfire risk.
Why are works taking place in these areas?
The post-storm condition of these areas would make controlling a bushfire very challenging and increases the potential damage and risk to the community.
Before the June 2021 storms, planned burning was regularly used at these sites to reduce bushfire risk.
Although planned burning occurred in May 2021, growth and storm damage has returned the bushfire risk in these areas to a high level.
Once this work is complete effective and safe planned burning can resume where appropriate.
What work is being undertaken?
The increased risk at the two sites will be addressed by removing the heavy debris from roadsides, including up to 40 metres off the tracks. These works will allow fire crews to respond more quickly, safely and effectively to a bushfire by removing obstacles to accessing the site. It will also ensure a safer work environment for crews conducting planned burns. This approach will minimise the impact of machinery on environmental values by enabling crews to conduct most of the work from the existing tracks.
When will these works take place?
Works to treat hazardous debris are ongoing but paused through winter. The bulk of the debris removal works will be delivered after winter, as we move towards the summer months and the forest dries out.
Apart from debris removal and planned burns how do you manage fire risk?
As well as planned burning, we also slash, mulch or remove excess vegetation to lower bushfire risk.
How do you protect the environment during these works?
We prioritise the protection of environmental, biodiversity and cultural values during all recovery and bushfire risk reduction works. Protections include:
Excluding sensitive areas from works
Tree root protections
Approaches to minimising soil disturbance as much as practicable
Weed/pathogen transmission protocols
Identification of the feeding trees of possum species
Retention of remaining standing trees
Useful links
Find out more about the works to clean up the storm debris in these locations by clicking on the interactive map below.
The pins on the map show you:
roadside works in purple
broadacre works in orange.
If you zoom in, you will see the hatched area and the boundary of each treatment site.
Clicking on a pin or a hatched area, will provide you with information about a site, including:
a unique site number
the name of the location of where works are taking place, usually relating to a road or track
which organisation they are being done for, usually DEECA and sometimes on behalf of a land manager
a description of the status of the works, with an estimated start or finish date for the works (if available).
Further information email storm.debris@delwp.vic.gov.au
Please note that the hatched area on the map is the total site area. The area that timber is being removed from is generally only part of the site area.
The maps will be updated as value checks are finalised and checked in the field.
Public Safety Zones will be put in place prior to the works commencing on any site. This means that access will be restricted, ensuring everyone's safety while heavy machinery is in the area. It is an offence to enter a Public Safety Zone.
VicForests' works under the Timber Utilisation Plan are not works on behalf of DEECA. VicForests may be undertaking timber harvesting operations close by to DEECA storm debris works.
More information about the VicForests project plan can be found on the VicForests website.
Page last updated: 13/09/23