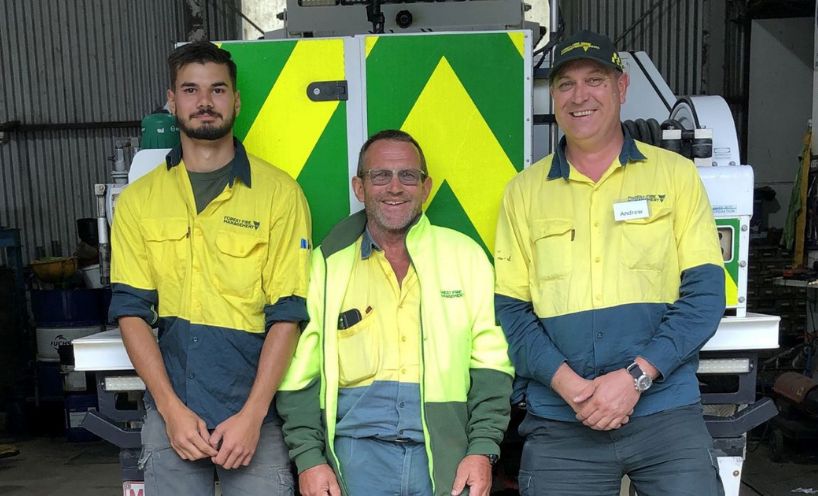 Chris, 20, a Gunaikurnai, Yuin and Ngarigo man, is a Forest and Fire Operations Officer based in Cann River and was employed in a Designated Aboriginal Position (DAP).
DAP is part of DELWP's Aboriginal Employment Plan, which seeks to strengthen DELWP's links with Traditional Owners in Victoria and work with Aboriginal communities to provide employment, training and business opportunities.
Partnerships
Jobs Victoria is partnering with DELWP to create 50 new firefighting positions under the Jobs Victoria Forest Fire Management Jobs initiative.
This $738,000 commitment creates opportunities for jobseekers to skill up and join Victoria's fire and land management workforce, and helps increase diversity by encouraging Aboriginal people, women, culturally and linguistically diverse people, young people and others under-represented in firefighting to come on board.
Sixteen Aboriginal forest fire operations officers have joined the program, receiving on-the-job training, mentoring and cultural support to become operational firefighters.
Chris became a Project Firefighter (PFF) in 2020, before he completed his Year 12 exams, then joined as a PPOO this year.
Chris, whose family lives on Country in and around Cann River, said he was interested in Aboriginal and European archaeology and that led him to work at Ecology and Heritage Partners, a Melbourne consultancy in the research and management of natural and cultural heritage, for his first job.
He then joined the Gunaikurnai Land and Waters Aboriginal Corporation, before completing his VCE.
He saw DELWP as a way to build a career that has also enriched his connection to Country.
'I was interested in the work – working in the bush, working on Country, the people you meet,' he said.
'I feel at home working on Country. It feels different to when I'm working in other places. I feel more at home and more connected. My family is from this area'.
'I like to do day-to-day track clearing, because you're immersed in the environment, and going to see places that are culturally impacted – places with artefact scatterings or scar trees. I can see those and I know that my ancestors did that.'
Working on Country
The Country around Cann River has many significant Aboriginal sites Chris said.
'About 10 minutes from the depot here, there is a place along the river where there are axe-grinding grooves in a rock. That's really culturally significant, and I can see those things at work, which highlights my cultural identity in this area,' he said.
'Out in the bush, you can find artefacts no-one has ever found, like axe heads. That's pretty special. Axe heads were used here and were traded along the coast. It's interesting to know that my great-great grandfather may have used that tool 200 years ago.'
He and workmate Chris Leary have been working to build a raised boardwalk, deck and jetties in an area south of Cann River called Choof Choof.
Choof Choof is a lagoon at the top of the tidal reach at Tamboon Inlet named for the small steam boats that once moored there. The work will expand and flood-proof access to a campground.
Chris said he loves his workmates and the region's diversity, and that Chris Leary has become a friend and mentor.
'The people are really great to work with. The variety of the work and the variety of the area is great, too. You can be on the coast and an hour later you can be up where it's snowing,' he said.
DAP a career footstep
The DAP offers Aboriginal people a path into a career, Chris said.
'It gives a footstep to people. It can be a bit hard for Aboriginal people to obtain a job. You feel left out. There are two Indigenous people working here – me and my auntie (Administration Support Officer Barbara Mongta). It can be intimidating to go into a fully white workplace mostly due to the stereotyping and bias a lot of indigenous people get when in the work force, but Cann River is great because I don't get any of that.'
Cann River Acting Field Operations Supervisor Andy Scott is a big rap for Chris.
'He's a goldmine. With Chris, we have someone who I consider will be one of our leaders in the future,' Andy said.
'Chris brings unique skills - his knowledge of the bush, his capacity to use hand tools. Chris has a fantastic drive to work. He's very fit, very capable. He works well with others. His approach is always to do everything to the highest standard he can with the materials we have available.'
Andy said his crew is engaged with the local environment and knows the area has many Aboriginal heritage sites, many of which have not been mapped. Chris' presence gives them direct access to a Traditional Owner.
'It creates delays and potential risks that a site could be damaged if we have to wait for someone from the outside,' Andy said.
'With Chris, we can get a pretty good immediate insight into the value of a site. We have someone who has an intimate connection to Country. You can't buy that. It's pretty rare.'
Chris has a message for any Aboriginal person considering a career with DELWP – do it.
'If they are interested in this line of work, go for it. It is a great position and it's a great job. You get a lot out of it.'
Page last updated: 18/05/22