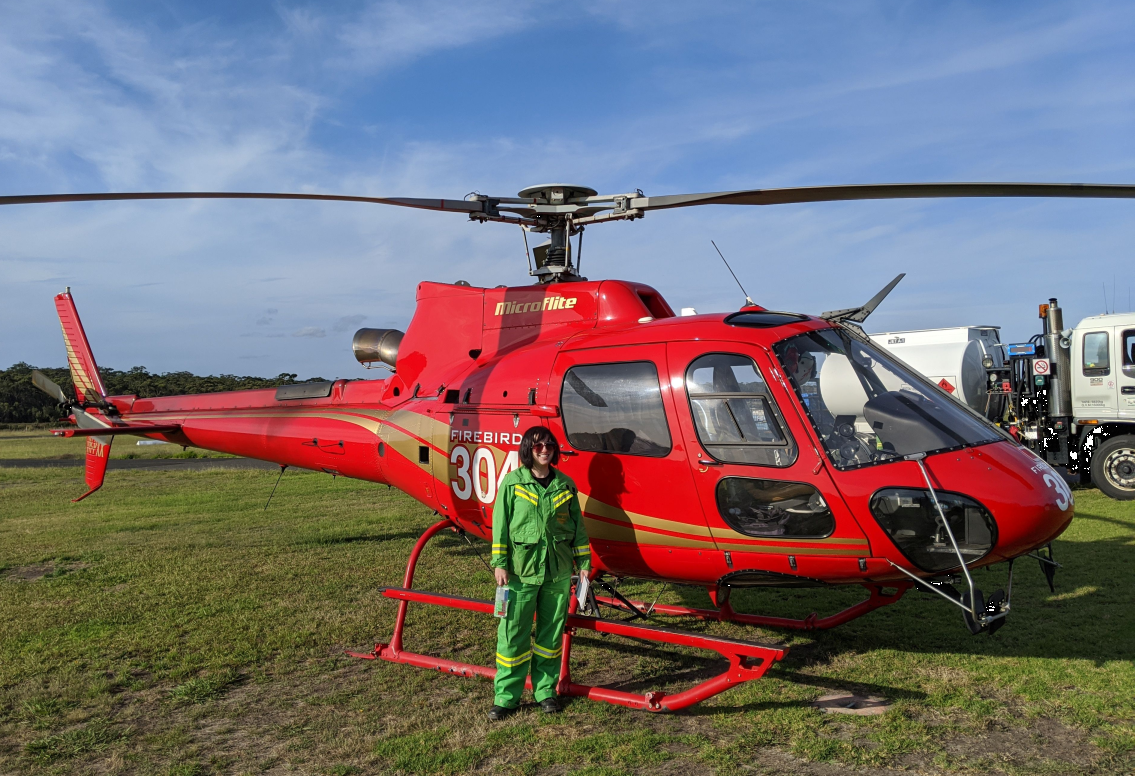 Erin is currently Acting Executive Director of the Department of Environment, Land, Water and Planning (DELWP) Forest Fire and Regions Group's Public Land and Environment Recovery Division and Acting Regional Director, Grampians.
She has held a range of emergency management and recovery positions within DELWP. Her substantive emergency role is as Built Assets Discipline Lead and Team Leader in DELWP's Rapid Risk Assessment Team.
The Rapid Risk Assessment Team arrives in the immediate aftermath of major incidents to examine the scale of their impact and the urgent emergency work that's needed to begin the response, relief and recovery phases.
This task took on even greater significance following the 2019-20 summer bushfires, which razed more than 1.5 million hectares in Victoria alone and caused massive economic and environmental impacts.
Erin, a native of the US state of Vermont, graduated from Alfred University in upstate New York with a Bachelor's degree in Environmental Science and Fine Art, and followed that with a Masters in Biogeochemistry and Ecology from the University of Edinburgh in Scotland.
For her Masters, Erin researched metal uptake by periphytic mats in constructed wetlands. These are communities of microbial organisms including algae, diatoms, and cyanobacteria in wetlands and ponds.
'When I moved to Australia in 2009, I was writing some academic papers on the side and got a job with a waterway crew doing public waterway management. Then I joined DELWP,' she said.
'I've had roles in public land management programs and policy, and then emergency recovery. I've always had an emergency role at DELWP that uses an understanding of science and what we know about the impacts of emergency events to inform how we respond to and mitigate risks.'
Opportunities
Erin said her background in science has allowed her to pursue a diverse career.
'My interest in science has led me to consider possibilities and pursue different interests in my career,' she said.
'A career in science lets you look at really pressing challenges in a significant and rigorous way. It drives you to understand the information that informs decisions and how that information is assessed - the value that's placed on it, how it's used, and then what's done with it.'
Erin said that women and girls often face significant barriers to accessing opportunities in scientific study or careers in science and, once there, contend with biases on multiple fronts.
'It is a reality for a lot of women in the sciences, and for trans and gender diverse scientists,' she said. 'We are taught to accept it (the biases) as an unfortunate inevitability. We can't.
'Our culture of action at DELWP, where we openly and actively combat these barriers, is something I really value. In my role, I'm always seeking and exploring ways to make the department more inclusive. We all benefit from this.'
Erin said science is an 'exceptionally important' part of her approach to life.
'It informs the issues that I focus on, how I think about them and analyse them, what I think are important issues for me and my community, and how I approach problem solving,' she said.
'As an inveterate tinkerer, I approach things by looking at their parts, dismantling them and assessing how things stack up. It informs my way of looking at the world.
'Globally, we're tackling major existential threats like climate change. In Victoria, that's incredibly relevant. We're seeing increasing frequency and severity of emergencies that we're being forced to manage in different ways.'
Science an asset
Erin said that an understanding of science, research methods and scientific disciplines are great assets.
'In any field of research, whether that's social or physical or biological sciences, you're using a rigorous approach to your research and analysing the information taking into account the challenges that we have to deal with and that we manage on so many levels,' Erin said.
'A career in science will allow you to break down and understand the systems that underpin major decisions and inform how we all operate.'
She offers strong advice for women and girls contemplating a scientific career – do it your own way.
'Be yourself. Don't be afraid to take apart the system, examine those parts and put them back together in a way that works for you.'
DELWP celebrates Erin and her many colleagues in science within the department on Friday, February 11 - the United Nations' International Day for Women and Girls in Science. Find out more on the UN website.
Page last updated: 15/03/22