.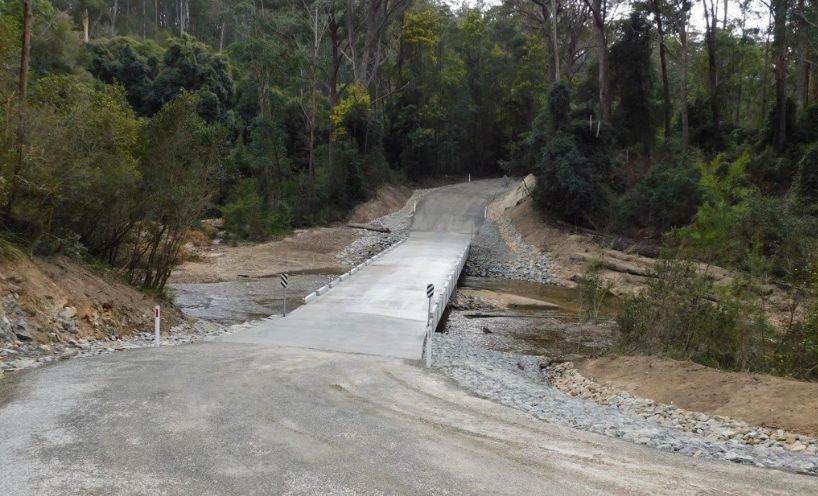 It was built by the Department of Environment, Land, Water and Planning's (DELWP) Forest, Fire and Regions' (FFR) Roads and Fixed Assets Unit in 2018 to carry the Rocky River Road across the Brodribb River in remote country north-east of Orbost.
Replacing a ford (a shallow road crossing through the waters of the river) that was washed away in a flood, the bridge is used by DELWP vehicles and private motorists.
The new concrete bridge is designed for resilience, Roads and Fixed Assets Planning Team Lead Steve Griffiths said.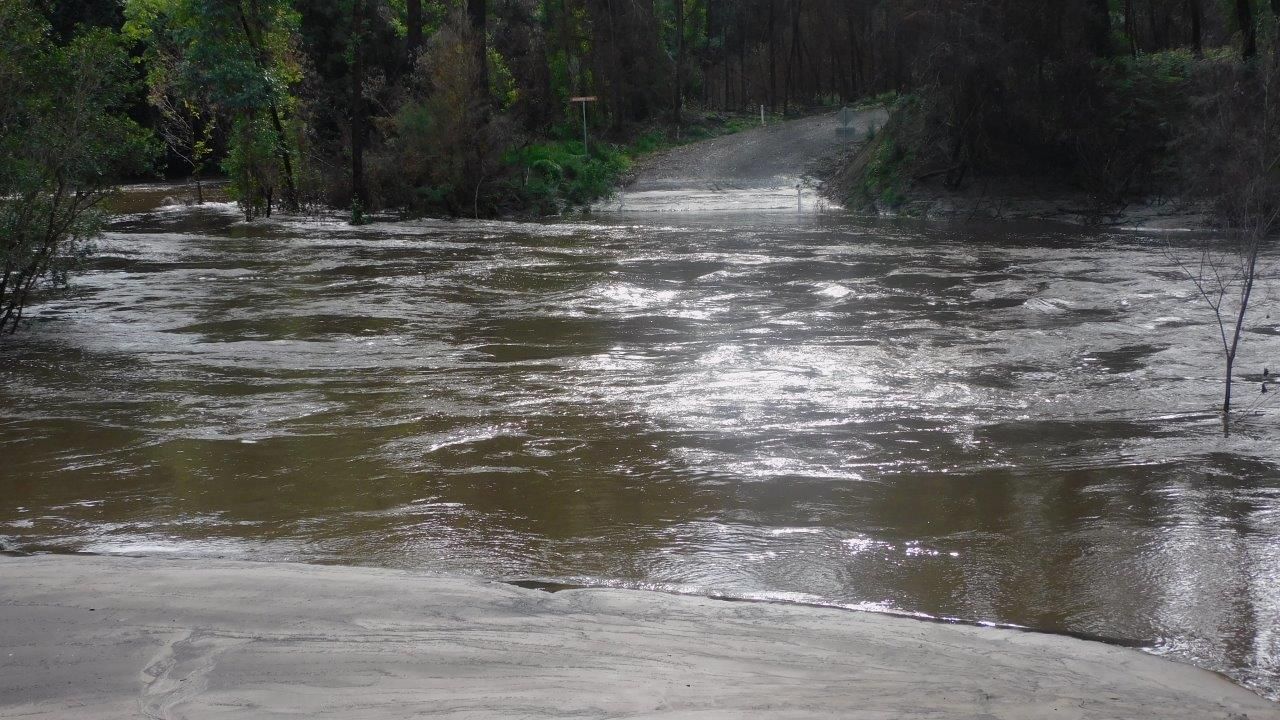 This concrete structure sits above the river, but low enough that it goes underwater during a significant flood.
'This bridge was designed to go under water quite early in a flood so that we don't have debris, trees and logs that get swept down a river, banking up against it and doing damage because of the extra pressure,' Steve said.
Expensive repair and replacement costs and insurance claims are greatly reduced. The bridge has been put to the test three times.
'On 31 December 2019, it went through the (2019-20) East Gippsland fires. It was burnt over and survived that with no worries because it's concrete,' Steve said.
'There were some issues with the plastic guide posts and some of the signs were scorched but we didn't have to replace the bridge, which is very expensive.'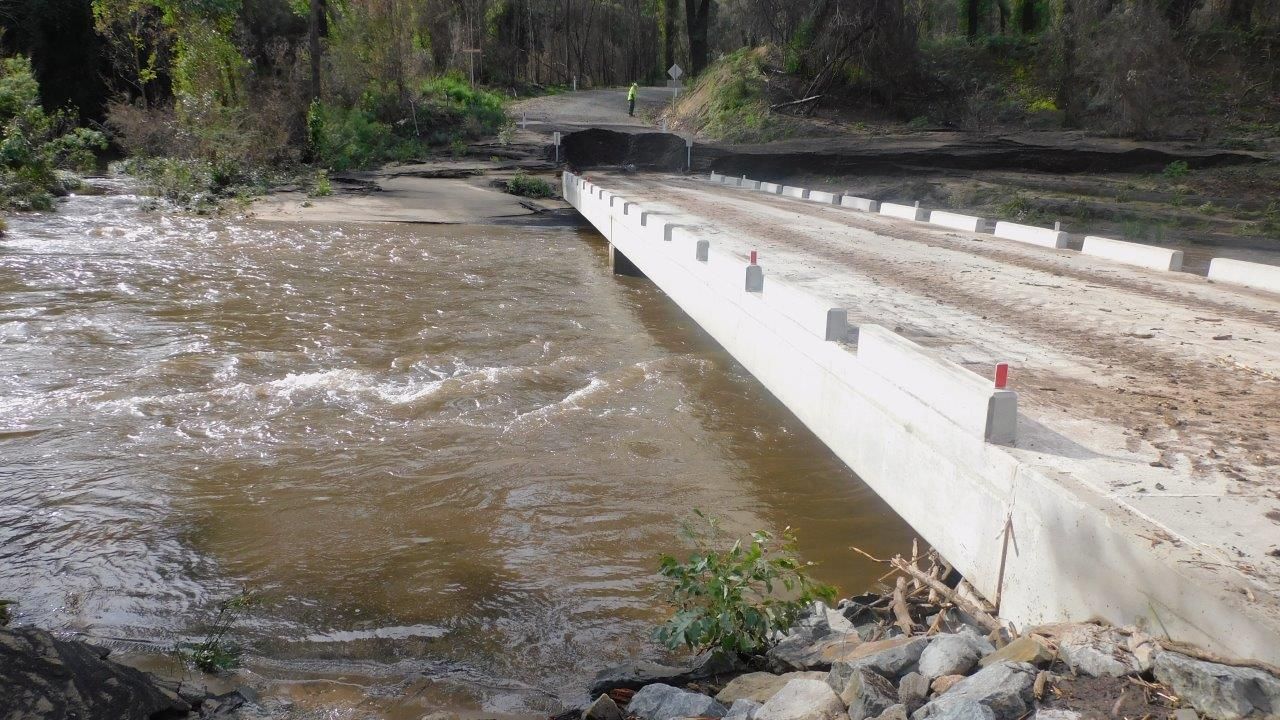 Two floods that washed post-fire debris down the river in July 2020 and April this year failed to damage the bridge.
'The bridge over-topped, but all we had to do was get some of the department's machinery out to clean it off and we were ready to go again,' Steve said.
'Our insurer hasn't had to pay a single cent for this bridge. And it's been through three different insurance events in the four years since it's been built.'
Eliminating the ford has had a positive effect on the environment, too.
"There are endangered aquatic species living in that river such as the Australian grayling. What was there was a ford, so the vehicles would drive through the water, and they would cause sedimentation and disturbance to the aquatic habitat,' Steve said.
'Having the bridge for the 99 per cent of the time you can use it means you don't have that environmental impact.'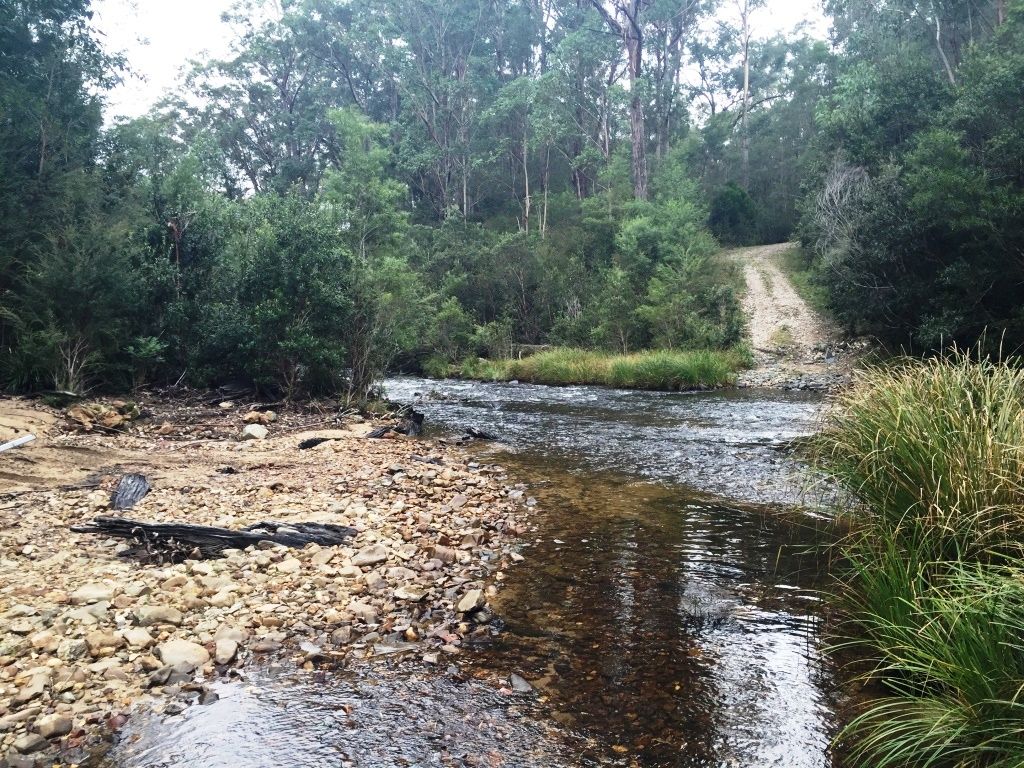 DELWP Gippsland Deputy Chief Fire Officer Sam Quigley said the road provides vital access to the area for emergency vehicles.
'This bridge gives our Forest Fire Management Victoria crews and our emergency services partners much safer access to the area during bushfires now we have a smooth and reliable river crossing and the reconstruction of the approaches to the bridge. It's a huge benefit,' he said.
'The bridge is important to us because this road cuts access time to the Brodribb State Forest by up to an hour. It also prepares us to further upgrade the Rocky River Road in the future for even greater fire access to the area.'
DELWP has constructed more than 600 bridges on public land around the state since 2008. Of those, Steve said between 30 and 40 are similar in design to the Rocky River Road bridge.
'There are other examples of these that have survived over-topping events because they're designed to do that, whereas previous bridges in those locations would get damaged. We'd have to repair them, or they would simply be washed away,' he said.
Page last updated: 28/04/22