As Chief Fire Officer of Forest Fire Management Victoria (FFMVic), I am always super proud of our crews with all the work they do to protect Victorian communities and the environment.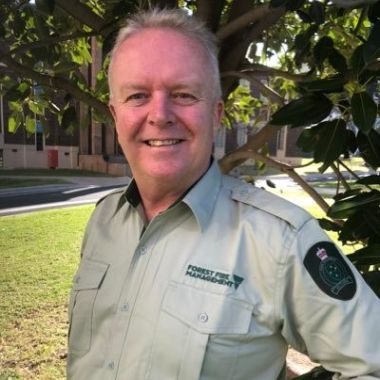 Most recently, I was proud of the FFMVic crews who answered the call from our firefighting colleagues in Canada who are experiencing an early and concerning fire season.
Summer hasn't even begun in Canada, yet fires have already ravaged over 2 million hectares – more than what burned in Victoria during the devastating 2019/20 fire season.
Just like the Canadians were there for us then, Australia and New Zealand have answered their call for help now.
Close to 200 personnel are in the first Australian-New Zealand deployment to these fires, with Victorians making up a quarter.
We have sent a 20-person strong Arduous Firefighting Task Force which is trained for the type of difficult terrain and remote-area firefighting they will encounter during their 34-day deployment to Canada.
The Victorian contingent is completed by plant and aviation staff and incident management team members from FFMVic and CFA.
They have all been deployed to northern Canada to help the already stretched teams north of Edmonton.
I look forward to updates of their work and to safely, welcoming them home later this month.
Of course, none of this would be possible if it weren't for the hard-working people of emergency management personnel across our agencies who spent many long days coordinating the request for support – a role with far less glory, but no less important!
We wish our crews all the very best on a safe and effective deployment.
Photo: A task force led by FFMVic's Tim Wishart has been clearing vegetation ahead of backburning at Peace River.
Crews in several of our regions were able to advantage of a late autumn window to conduct several planned burns.
Engaging with the community is an important part of our bushfire risk reduction works, including our planned burn program.
One of these burns, at Macs Creek in our Tambo District, saw our Gippsland team work closely with the local Benambra community.
More than 2500 hectares were treated over six days at Macs Creek in late April, with FFMVic crews from Tambo District working with landholders to burn on both private and public land.
Five farm owners participated in the fuel reduction burn, which was conducted after consultation with community members who were concerned about the potential for bushfire in the remote and inaccessible country.
These burns were examples of FFMVic working with local communities to reduce risk.
As we head into winter, we will continue to take opportunities where we can before the weather window closes to conduct planned burns.
Meanwhile, Traditional Owners have been continuing to deliver cultural burns. FFMVic has been able to join around 20 cultural burns so far this year, which have been great learning opportunities for our firefighters.
We have also been working in the background with Traditional Owner Groups to help upskill their staff and members, define priorities and plan for future burns. Many groups are using training and experience gained through partnering with FFMVic to deliver cultural burns in addition to those in the Joint Fuel Management Plan.
These are important steps towards realising the Victorian Traditional Owner Cultural Fire Strategy to reinvigorate cultural fire and support Traditional Owners to use fire to heal Country and fulfil their rights to connect to and care for Country.
FFMVic is also appointing new Cultural Fire Officers to help us better support Traditional Owners to undertake cultural burning.
Photo: Gunditjmara man and Port Phillip Region Cultural Burn Officer, Wadawurrung man Blair Gilson and Yorta Yorta man Billy Marchioni working together at a recent burn at Tang Tang Swamp, Dingee, on Djaara Country, after Djaara Invited other First Nations people to joint them at the burn.
And finally, the recent Victorian budget provided $36.4 million over 4 years and $7.5 million ongoing to transition 50 of our project firefighters to full-time, ongoing Forest Fire Operations Officers. This will provide a wonderful opportunity for the successful candidates to build on their career path in land management.
The funding will also expand our bushfire risk reduction program, enabling more mechanical fuel reduction through mowing, slashing, and mulching.
Until next month,
Chris Hardman
Chief Fire Officer