Two firefighting helicopters arrived in Bendigo today in preparation for summer to help protect communities and the environment from bushfires.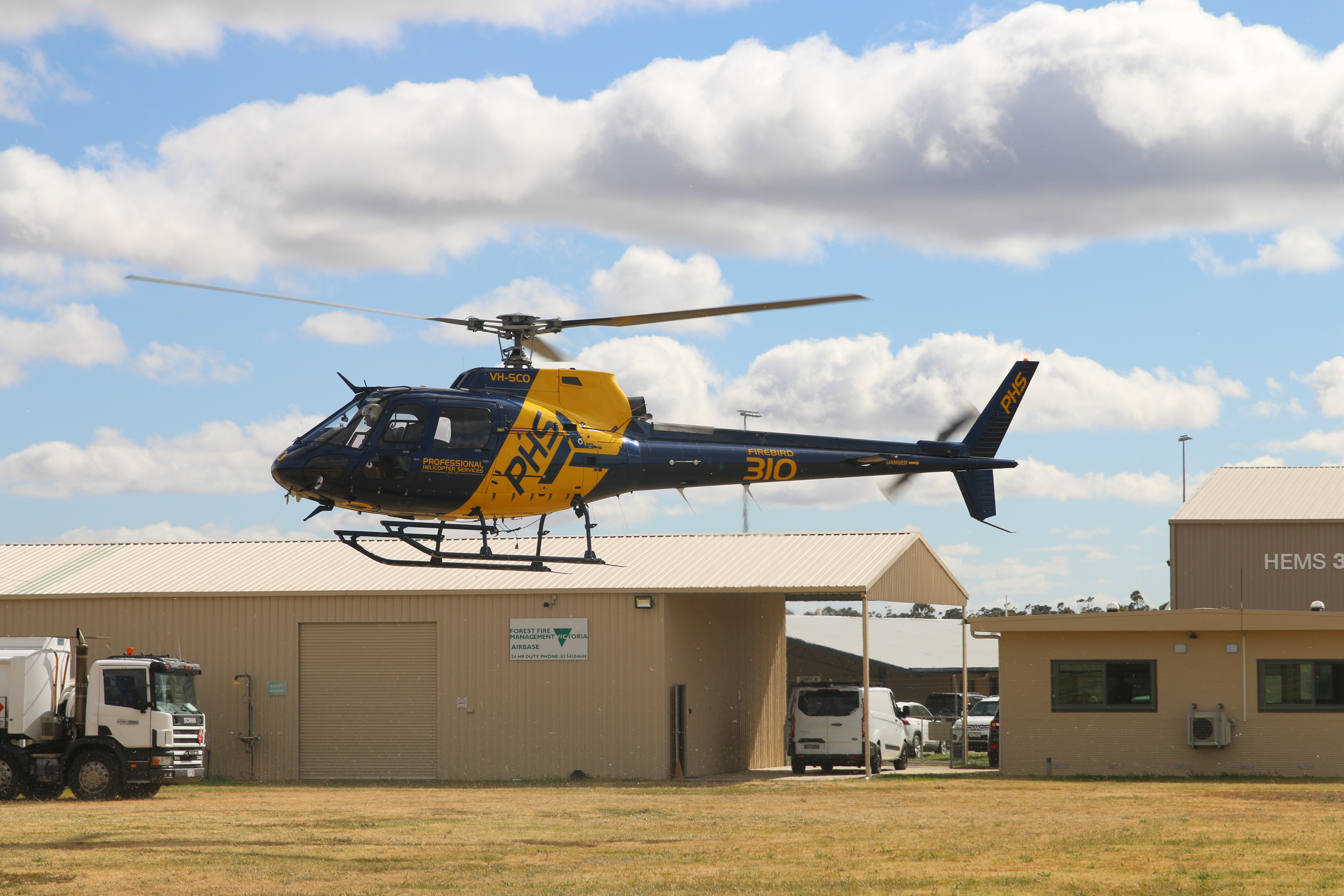 The helicopters will be used throughout the bushfire season by Forest Fire Management Victoria (FFMVic) and Country Fire Authority (CFA) to respond to fires across Central Victoria.
FFMVic Regional Manager Fire and Emergency Preparedness, Carsten Nannestad, said the helicopters are critical when responding to fires.
"On high fire danger days, as soon as the call goes out for FFMVic or CFA to respond to a fire, the water-bombing helicopter will be deployed so we can hit the fire hard and fast in the initial stages and stop it spreading," Mr Nannestad said.
"An Air Attack Supervisor (AAS) in the smaller of the two helicopters directs the pilot of the larger water-bombing helicopter where to drop its load so that it is most effective in suppressing the fire. The AAS will also help the helicopter pilot locate suitable water sources near the fire."
CFA Assistant Chief Fire Officer, Loddon Mallee Regional Commander, Bill Johnstone, said the arrival of the choppers is a significant contributor to controlling fires in Central Victoria.
"These helicopters support the great work our crews do on the ground. Dispatching the aircraft simultaneously with fire trucks means we have a greater chance of limiting the size and spread of fires," Mr Johnstone said.
"The flow-on effect of this is that potentially less property is lost or damaged by fires and having rapid response aircraft reduces the length of time firefighters are required on scene."
The firefighting aircraft based at the Bendigo airport this summer are:
Helitak 335: Bell 214B water bombing helicopter. Carries 3,000 litres of water in its belly tank. It can fill the tank in 40 seconds by dropping its three-metre snorkel into a water source while hovering two and a half metres above the water surface.
Firebird 305: Airbus AS350 FX2 Squirrel helicopter. Carries the Air Attack Supervisor who oversees and coordinates the aerial tactical operation. Acts as a liaison between the ground crews and the water bombing aircraft.
The aircraft based in Bendigo are part of Victoria's fleet of 50 firefighting aircraft to start operating ahead of the fire season.